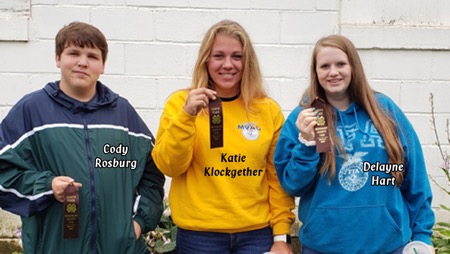 By: Katie Klockgether
Photo by Mr. Jon Wimmer
Throughout the summer, members of the MVAO FFA Chapter competed at three different livestock judging contests.
Shelby Davis, Katie Klockgether, Delayne Hart, and Cody Rosburg competed at the Monona County Fair in Onawa on July 12th. Delayne Hart placed 10th and Katie Klockgether placed 9th as individuals. Overall, they placed 3rd as a team.
At the Crawford County Fair in Denison on July 24th. The members that participated at Crawford were Delayne Hart, Cody Rosburg, and Katie Klockgether. Delayne Hart placed 6th and Katie Klockgether placed 2nd as individuals. As a team, they received 2nd place.
The members that competed at Crawford also went and competed at the Woodbury County Fair on July 31st. Katie Klockgether placed 8th as an individual and the team also placed 8th.
Cody Rosburg, Adam Mitchell, and Jade Hadley competed in the District Livestock Judging contest at the Clay County Fair on September 14th. Adam Mitchell placed 7th place individual and the team placed 8th.
Congrats to the MVAO FFA livestock judging team and everyone who participated.