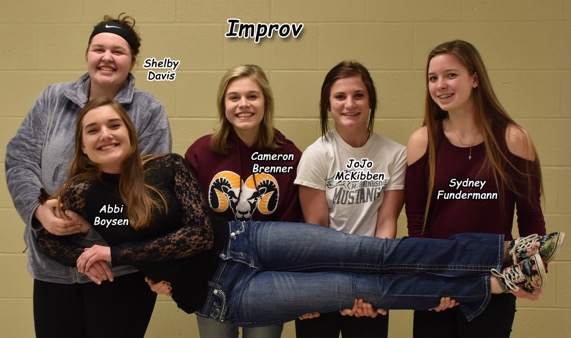 On February 3rd two of MVAOCOU's large group speech teams performed at the state speech contest in Moville. The grouple did their best on this day. Three judges critiqued and scored the participants.
The One-Act Play called "13 ways to Screw up your College Interview" with the cast of Lindsey Sisco, Sydney Fundermann, Claire Mikkelson, Dawson Bolinger, Jenny Frank, Lilly Burke, Hannah Johnson, and Jennalie Mounivong performed at state large group speech. They earned 2 II's and a I.
The improv group of Sydney Fundermann, Cameron Brenner, Jojo McKibben, Shelby Davis, and Abbi Davis performed the selection of "Teaching a Child how to Ride a Bike" and earned 2 II's and a I as well.
Congratulations for doing your best at State.