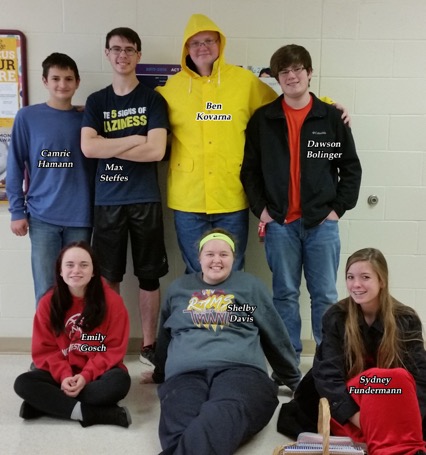 On Saturday, October 28th the MVAOCOU Varsity and JV Quiz Bowl teams headed to Lawton to compete in the Lawton Bronson Invitational Quiz Bowl Tournament.  There were 24 teams vying for the top 2 trophies.
The JV team of Shelby Davis, Emily Gosch, Sydney Funderman and Max Steffes placed 5th in the JV division by going 3-2 in matches and amassing 495 points.  Scores for their matches were: Woodbury Central 110/ MVAOCOU 60, MVAOCOU 95/Lawton Bronson 60, Sergeant Bluff Luton B  80 / MVAOCOU 125, Sergeant Bluff Luton A 210/ MVAOCOU 70  and MVAOCOU 145/Gehlen 10.
The Varsity team of Dawson Bolinger, Camric Hamann and Ben Kovarna  placed 7th overall going 2-3 in matches and amassing 830 points.  Scores from their matches were: SC East 125/ MVAOCOU 120, MVAOCOU 260/ Whiting 50, MVAOCOU 210/ Gehlen 100, MVAOCOU 150/ Woodbury Central 280, and MVAOCOU 90/ Sergeant Bluff Luton 325. 
The teams travel to the Boyer Valley Tournament next. Wish them luck.