The end is near! The end is near! The end of summer vacation, that is!
School will be in session in the MVAO school district on August 23rd. The summer was filled with many activities for the kids - little league, camps, fairs just to name a couple day-filling events. Many children stayed busy being kids. However, some kids took a vacation from summer vacation to help perfect strangers. Here are the stories of two of those kids, Joey Koithan and Mya Boyle. Photos were submitted. Thanks, guys!
JOEY's STORY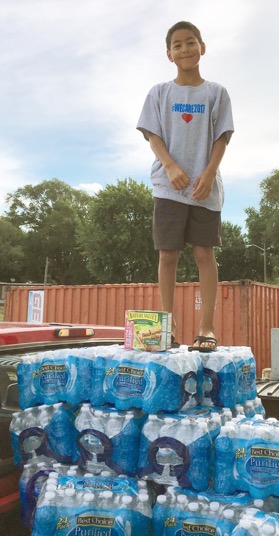 Nine-year-old Joey Koithan, son of Carol and Dan Koithan of Mapleton had a full schedule with little league, tae kwon do, swimming, and being a kid. It was the back half of July and activities were ending. The summer heat gave Carol a perfect idea to cool some strangers and let Joey unleash his caring side at the same time. She discussed handing bottled water out to the homeless in Sioux City, and Joey loved the idea.
Carol went forth with the project, and through generosity from many, many others, The Koithans we able to take 55 cases of water along with 300 packs of crackers and granola bars to the needy.
Joey, Carol and Dan loaded the truck and met their daughter, Alisa. With temps nearing 100°, the four looked for areas where the homeless would be and walked the sidewalks handing out water and snacks. They also went into the library downtown and the bus station. They donated several leftover cases of water to the Gospel Mission, Soup Kitchen and Warming Shelter, locations where homeless would go for a meal.
"Sometimes I was sad because I felt sad for the people, but I loved giving and receiving hugs from them and hearing some of their life story," said Joey. "Once I was a little scared because we saw a very angry man acting strange, then he walked down the alley where we were unloading and Mom asked him if wanted water. He wouldn't take any until he helped us unload. Then he accepted the water and snacks and was so grateful! We talked about how he just needed love, like everyone else. That especially made me so happy!!
MYA's STORY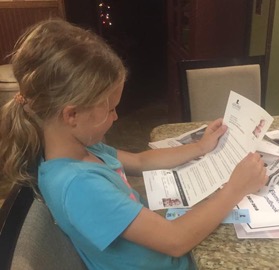 A large number of families spent the summer vacation working with 4-H and FFA projects for their county fairs. Especially the livestock projects, the children have had to work with their projects daily to produce their best entry they could. Their sweat and hard work is converted into premium money once the fair is over.
This is the story of Mya Boyle, daughter of Mindy and Duane Boyle of Danbury.
Nine year old Mya exhibited a bottle lamb and bottle calf which, because of her age, didn't get any premiums. She did, however create projects which she placed in the open class exhibits and did earn premium money. She had a good fair, and was awarded thus.
The problem with having animals at the fair means things at home - such as the mail - get ignored. Well, after settling back into the regular routine, Mindy dug into the mail. Mya gave her mom a hand, checking out everything including the junk mail. Among the envelopes was one from St. Jude. Mya took the time to read the letter, and thinking of children needing medical help struck a chord in Mya's heart. She asked her mom if she could donate her premiums to St. Jude. Of course, Mindy was not about to quelch her daughter's desire to give.
"I felt sad that the kids that are sick with cancer can't go do fun things like go to fairs, see the animals and ride the rides," said Mya. "Maybe my money will help find that cure for cancer and make everyone that's sick with cancer happy, like as happy as me when I go to the fair!"