Colbert's Market is a landmark in Danbury. Monday through Saturday, people enter the store to get some groceries and possibly chat with some of the employees. One of those employees is Jan "Butch" Petrositch. Jan has been a fixture in the meat department since the late 1980s. And now - she is retiring.
Jan was gracious enough to write out her answers to some simple questions so well that we are just printing her story as she has written it. Photo is by Nate Colbert. Thanks, Jan and Nate!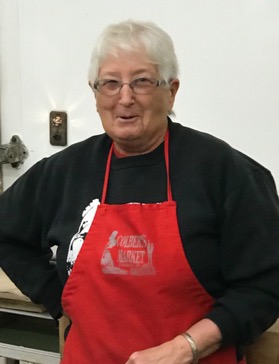 In September of 1984, I was hired to work Saturdays. When I told my mother, Mary Butch, who had just moved into town, that I had applied for a job at Colbert's Market, she laughed and said, "He'll never hire you." Now, 33+ years later I am retiring from there. (Surprised, Mom?)
Having been initially hired for one day a week and as a stocker and carry-out, a few years later my days were increased and I was moved to the meat department to take Pony Rogge's place after he retired. David was a bit wary of the idea at first - it was my request - he was nervous about the saw. However, I convinced him that I was used to running power equipment.
When I was hired, I was told the benefits were few but I would always be free to speak my mind. So I did! The benefit given to me by David and Linda that I appreciated the most and was the most valuable to me was being treated like family. I had previously worked at several other jobs for difficult employers and thus had never stayed in their employment for more than two years.
Probably the biggest change in the meat department during my tenure was going from bone-in beef and pork to boneless cuts of meat. The first bone-in pork loin that I cut (my first use of the saw as David nervously watched), was for Charlene Pine. When boneless pork was introduced to our customers, they were hesitant to try it. I sold my first boneless pork roast to Kathy Hamers.
Along with changing warehouses about four times, another big change was going from pricing guns and stickers and cash registers to scanners and computers which cut labor.
Of course, as the Colberts well know, the employees did not spend all their time working. Some of us could be pranksters, too. A life-like and life-sized cardboard man placed in an appropriate and unexpected place always achieved the desired result of jump-starting someone, including the boss! The one prank nearly fatal to the involved employees, however, was when we set the clocks ahead an hour while David was on deliveries. When he returned, it was "6 o'clock" and he rushed around to close things up while we and the customers, who were in no hurry, watched him. When he finally realized what was going on, he totally lacked a sense of humor. Imagine that!
There was also the time earlier in my employment when we were still burning our boxes out back and Glenn Schimmer came charging in the back door yelling, "Who lit the fire!?? I just moved David's pickup before it was all burned up!" But he hadn't moved it before it was charred black on one side. Guess who lit the fire paying no attention to the location of the pickup?!
All in all, it was an enjoyable and quickly passing 33 years. I was fortunate to have a job I liked that fit into my life situation. I know that I will miss the customers and the funning around with the high school helpers and other employees but I will be glad to have my weekends back again.